Drawing from our experience and knowledge accumulated in the course of developing the original EquinYar product line, as well as responding to the needs of owners and breeders struggling with recurrent conditions and allergies of various aetiology in horses, we have created a specialized EquinYar Brio Formula for Horses product line in collaboration with leading research institutions. The aim of the line is to support treatment of horses and shorten their recovery. The unique combination of the Yarrowia lipolytica yeast and the specially selected ethyl esters of unsaturated fatty acids, developed in our laboratories, contributes to a considerable health improvement.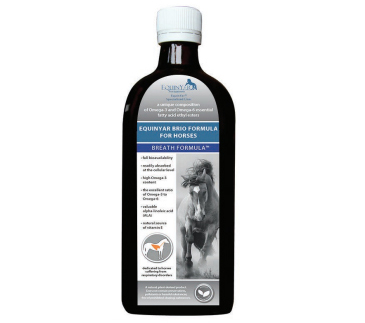 How does Breath Formula™ Help?
Breath Formula™ contains unsaturated fatty acid esters of an increased concentration of flax oil rich in alpha-linolenic acid (ALA). The product is easily absorbed and readily available. Vitamin E in the esters aids in the protection of cells from oxidative stress (the damage caused by free radicals). Specifically, Breath Formula™
lowers the levels of inammatory cytokines in respiratory conditions, thus improving the respiratory function
effectively aids symptomatic treatment of cough and respiratory allergies (RAO, IAD)
has anti-inflammatory properties
contains a high concentration of Omega-3 fatty acids
is characterised by an excellent balance of omega 6/omega 3 fatty acids
What is Yarrowia Lipolytica?
Our group has researched and patented Yarrowia lipolytica yeast strain in order to use fat as a source of carbon and energy, which is considered as a major innovation in the horse supplementation industry. The special method of the yeast biomass culture on fat medium in a biotechnological regime ensures the best quality of the product. The efficacy and multi-functionality of the Yarrowia lipolytica yeast results from its rich content of bioactive substances and the high availability of all the nutrients contained in it for the body. At present, our group of companies is the only group in the world with the right to produce this type of yeast.
What are Unsaturated Fatty Acid Ethyl Esters?
Our technology of producing homogenous mixes of oils containing various health-improving substances helped us obtain ethyl esters of a programmed content. By converting triglycerides of higher polyunsaturated fatty acids into ethyl esters of higher polyunsaturated fatty acids we have obtained the following results: high bioavailability, immediate absorption at a cellular level and the preserving of natural ingredients (phytosterols, carotenoids, phospholipids and others). Unsaturated fatty acid esters are characterised by a longer shelf life (lower oxygen solubility), no toxicity and the possibility of combining with other substances.
The conformational structure of ethyl esters has a considerable impact on their desirable bioactivity. It is particularly beneficial to use isomers in the form of CIS, which are present in natural unsaturated fatty acids. The declared content of ethyl esters produced by the Pharmapex Group is 100% Omega 3, 6, 9 fatty acids in the form of CIS isomers.
Contact our Customer Support Department to find out how we can address your needs in your market.