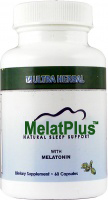 Product Highlights
Helps you Relax
Combats Stress
No Known Side Effects
No Prescription Necessary
Helps Stimulate the Sleep Process
Product Details:
Everyone has nights when they just can't get to sleep. Then, there are those nights when you fall asleep, but wake up a few hours later and can't get back to sleep, no matter what. If you're struggling with bad sleep patterns, you'll love MelatPlus.
MelatPlus™ gently supports your sleep pattern with an all-natural formula fortified with melatonin. Melatonin works with your own body to support its natural sleep cycle It's combined with natural herbs to encourage relaxation. The result is a formula that lets you relax, put your cares away until tomorrow, and love your pillow again. Your partner will love you for being peaceful in bed rather than tossing and turning all night.
Because MelatPlus™ is 100% Natural, you won't have that that dull, "hung-over" feeling the next day. Instead, you'll wake up feeling refreshed and rested. As your body re-establishes its natural sleep cycle, you'll find you can sleep more easily without harmful or addictive drugs.
For more information about this product please contact our Consumer Health Department at ConsumerHealth@PharmapexUSA.com
Products by Category:

COLON HEALTH
COSMETICS
GENERAL HEALTH
MEN'S HEALTH

PET HEALTH
SEXUAL HEALTH
SKIN CARE
SPORTS NUTRITION

TEETH WHITENING
WEIGHT LOSS
WOMEN'S HEALTH