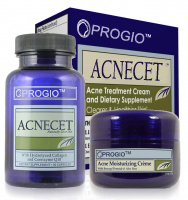 Product Highlights
Works for adults & teenagers suffering from mild to moderate facial or body acne
Eliminates spots, pimples, redness, pus, blackheads & whiteheads
Clear Existing Skin & Prevent and Treat Acne Breakouts
Fast and effective acne treatment from the inside out
Product Details:
Mild to Moderate acne can be difficult to control. Even after blemishes disappear, you must continue to use an effective acne treatment to keep new blemishes from forming. Impurities and contamination throughout the body create small chemical imbalances that often appear as Acne.
Progio™ Acnecet™ Solution is formulated with antioxidants to fight those impurities and treat the root cause of Acne, going beyond the harsh topical solutions commonly available in stores. Our expert biochemist designed the breakthrough Progio™ Acnecet™ Solution formula to heal the blemishes you have now and help keep new ones from developing.
The Progio™ Acnecet™ Solution is a revolutionary acne skin care system formulated to treat acne from the inside out. Unlike other topical products that only treat existing acne, Progio™ Acnecet™ Solution is a complete skincare management system that targets the source of your acne to heal present blemishes while guarding against future acne outbreaks.
We spent years developing a formula that will treat your acne by cleansing your entire body of the impurities that cause breakouts. The result is a complete care system that helps Eliminate Spots, Pimples, Redness, Pus, Blackheads and Whiteheads.
For more information about this product please contact our Consumer Health Department at ConsumerHealth@PharmapexUSA.com
Products by Category:

COLON HEALTH
COSMETICS
GENERAL HEALTH
MEN'S HEALTH

PET HEALTH
SEXUAL HEALTH
SKIN CARE
SPORTS NUTRITION

TEETH WHITENING
WEIGHT LOSS
WOMEN'S HEALTH